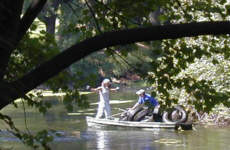 Clean Up
Your Assabet!
Sometimes, you just have to dig in and get a little dirty.
Each September, for the past 17 years, hundreds of volunteers have removed tons of trash, including tires, plastic and metal, from the river.
Teams in Concord, Acton, Maynard, Stow, Hudson, and Northborough get real dirty and pull out piles of trash and tires.
Slide Shows: We have, perhaps too many, photos of this great event so you can see what happened at each of the cleanup sites and how much trash we pulled out of the river.
OAR
gratefully
acknowledges
our
River
Cleanup
Sponsors
River Cleanup 2000 photos courtesy of Emily Lawrence