What is OAR?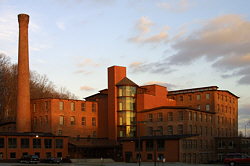 This is the Damon Mill on the Assabet in West Concord. The mill is now home to offices, one of which is OAR's headquarters.
For More Information
Our mission, vision and values
Detailed statement on who we are and our vision for the future

OAR events
See what we're up to and get involved.
OAR programs
Here's how we focus our efforts.
Contact OAR
Questions? Comments ... Join!

Organization for the Assabet River
Damonmill Square
Concord, MA 01742
Tel: 978-369-3956
Email: oar@assabetriver.org
The Organization for the Assabet River (OAR) is a 501(c)(3) nonprofit group whose mission is to preserve, protect, and enhance the Assabet River, its tributaries, and watershed. Established in 1986 by a group of concerned citizens, OAR currently has approximately 920 members, a 14-member board of directors, and a part-time staff of five. OAR has a three-pronged approach to its mission. Our goals are to:
Raise awareness of the river's special qualities as well as its problems among its various "stakeholders" - the public, watershed towns, and government agencies;
Collect data and advocate for additional information gathering in order to insure that decisions affecting the river are based on scientific research; and
Work with town, government agencies, and others toward solutions that will improve the Assabet River, and satisfy the state's standard of a "fishable and swimmable" river.
Awareness. OAR's public outreach, education, and recreation programs include a nutrient awareness program, a River Solstice celebration, a travelling photo exhibit, canoe and kayak trips, educational workshops, volunteer shoreline surveys of the Assabet and its tributaries; and two meetings a year with featured speakers on topics of interest to OAR members. OAR staff and volunteers also discuss the Assabet River as invited speakers at conferences, civic organization's meetings, and schools. OAR publishes a newsletter three times a year. OAR's StreamWatch program to monitor flow in the Assabet tributaries was initiated in 2002.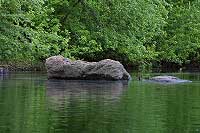 Science. OAR has sponsored a volunteer water quality monitoring program since 1992. Data collected by OAR volunteers forms the basis for our advocacy for the river. OAR also requested the nutrient TMDL (Total Maximum Daily Load) analysis of the river (which is now nearing completion) and has successfully advoated for the current USGS improved hydrologic study of the Assabet's aquifers. Data collected in these studies is helping government agencies, towns, and OAR to better understand the potential effects of proposed water withdrawals, new development, or changes in nutrient loading on the Assabet River and its watershed. This kind of information is critical to protecting the river's water quality and flow.
Solutions. OAR works to improve water quality and protect water quantity by commenting on proposed developments, new water withdrawal permits, wastewater facility permits, and other projects with potential impact on the Assabet River. We work closely with regulatory agencies and municipalities to assure the river has a "strong voice" in all major decisions that affect it.
In 1999, OAR partnered with the Middlesex Conservation District to offer watershed towns a series of "nutrient workshops," including one on emerging wastewater treatment plant technologies. In 2000-2001, OAR continued its nutrient outreach work by mailing informational flyers to taxpayers. OAR continues to educate the public by providing instructive brochures along with updated information on this website.
As a participant in the Assabet Consortium's Comprehensive Wastewater Planning process, OAR works with the six communities, state, and federal agencies to protect the river. OAR also organizes a multi-site annual river cleanup and accepts gifts of land along the river. The $1.5M OAR/Intel water recharge fund, announced in 2002, was a result of a collaboration between OAR and Intel Massachusetts to restore groundwater in the Assabet watershed.
OAR relies heavily on volunteers to accomplish our goals; over 260 volunteers participated in the 2003 annual cleanup (removing several tons of trash from the river), and 90 volunteers participated in the most recent shoreline survey. OAR staff and volunteers also work collaboratively with other groups to achieve environmental goals. We are fortunate that many volunteers donate their professional services to OAR including graphic design, writing, computer support, web design and maintenance, fundraising and public relations skills, and scientific and legal analysis. We are extremely grateful to the many OAR members who have used their time and talents to help OAR and the Assabet River and we owe much of the organization's success to their efforts.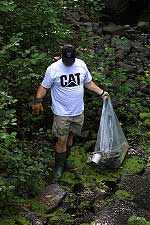 Sometimes you just have to get your feet wet...
Make a difference by joining the Organization for the Assabet River. Send us e-mail for more information.
If you live in or near the Assabet River watershed, the health of the river affects you and your community. This is your cause.
Not convinced yet? Check out upcoming OAR events.
OAR Organization Timeline
| | | | |
| --- | --- | --- | --- |
| | 1986 | | Founded by a group of concerned citizens |
| | 1987 | | First Annual River Cleanup |
| | 1992 | | Water Quality Monitoring Program begins |
| | 1993 | | First parcel of land acquired |
| | 1996 | | First Shoreline Survey to identify "non point" sources of pollution |
| | 1998 | | First professional executive director hired; staff expanded |
| | 1999 | | Assabet phosphorus Total Maximum Daily Load (TMDL) Analysis begins |
| | 2000 | | Quality Assurance Project Plan certified by the EPA; Nutrient Outreach Program begins; focus expands to include flow issues. |
| | 2001 | | Hydrologic modeling starts. |
| | 2002 | | StreamWatch program to monitor Assabet tributaries starts. |
| | 2002 | | OAR teams with Intel to establish a $1.5M Assabet Watershed Groundwater Recharge Fund. |
| | 2004 | | New permits for wastewater treatment plants greatly limit phosphorus in effluent. |
| | 200? | | Assabet River declared clean enough for fishing and swimming throughout its length. |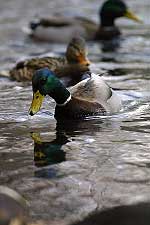 OAR Accomplishments
Tons of debris and hundreds of tires removed in seventeen Annual River Cleanups.
Pollution sources pinpointed in twelve summers of monthly water quality monitoring.
Many pollution sources reduced or eliminated through cooperative work with state and local governments.
Successful advocacy for a Total Maximum Daily Load (TMDL) analysis to determine how much phosphorus the river can safely assimilate; hundreds of hours of volunteer and staff time contributed to assure that it meets its potential.
Advocated for

the creation of the 2,300 acre Assabet National Wildlife Refuge in Stow, Hudson, Maynard, and Sudbury.

Successfully advocacy for hydrologic modeling to understand the relationship between groundwater withdrawals and river flow.

Collaborated with towns to educate residents about what they can do to help the river; nutrient education information reached 40,000+ households.

Won Environmental Protection Agency (EPA) approval for our volunteer water quality monitoring program's quality assurance protocol. This means that our data can be used for legal and regulatory purposes.

Participant in the Assabet Consortium's Comprehensive Wastewater Planning process.
Education programs about the Assabet, its watershed, and wildlife; OAR website and newsletter.
Submitted detailed technical analyses of wastewater treatment plant permits, water withdrawal permits, and other proposed projects that could affect the river.
Four workshops for town officials on state-of-the-art phosphate removal techniques.
Successful shoreline surveys in Maynard, Acton, and Northborough.
Sponsor of the Assabet River Rail Trail to promote the development of a biking and walking trail to link Marlborough, Hudson, Maynard, and Acton; sponsor of Wild and Scenic River legislation for the Sudbury, Assabet, and Concord rivers.
With the Assabet Consortium, awarded EPA grant for two-year project to monitor habitat in Assabet tributaries and communicate the results to the public.
With four Assabet communities and Sudbury Valley Trustees, updated the Assabet Riverway Plan for the upper watershed.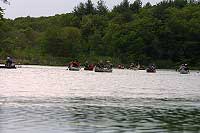 Members
OAR members are the river's neighbors, paddlers, fishers, bird-watchers and people who want to socialize and support a good cause. OAR's membership includes families, adults, children and students. In other words, OAR is for everyone.
In addition to membership dues, many OAR members contribute time and effort to help the organization run smoothly and achieve its goals. We are grateful to our members for their financial support and donation of time and talents.
Staff
Julia Blatt
Executive Director
Susan Beede
Policy Director
Suzanne Flint
Staff Scientist
Dorothy MacKeen
Office Manager
Membership Coordinator
Devra Feshbach-Meriney
Bookkeeper
Kim Neuhauser
Development Coordinator
Board of Directors
| | | | |
| --- | --- | --- | --- |
| | Elizabeth Stokey | President | Concord |
| | Cynthia Sechrest | Treasurer | Acton |
| | Richard Lawrence | Clerk | Hudson |
| | Morene Bodner | Director | Acton |
| | Don Burn | Director | Westborough |
| | Paul Goldman | Director | Marlborough |
| | Dave Griffin | Director | Maynard |
| | Marguerite B. Kosovsky | Director | Northborough |
| | Andrew Magee | Director | Acton |
| | Martin J. Moran | Director | Hudson |
| | Pam Rockwell | Director | Concord |
| | Lawrence Roy | Director | Marlborough |
| | Melissa Saalfield | Director | Concord |
| | David Williams | Director | Marlborough |
OAR is an equal opportunity employer and does not discriminate on the basis of ethnicity, race, religious creed, national origin, disability, sexual orientation, marital status, age or gender.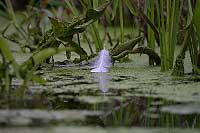 In addition to member support, OAR receives support for its work from the following organizational sponsors.
Foundations and other non-profits
Catalogue for Philanthropy
Crossroads Community Foundation
Greater Lowell Community Foundation
Greater Worcester Community Foundation
Stearns Foundation
Towns contributing to water quality monitoring program
Federal Government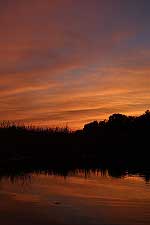 Patron - $5000 and up
Anonymous
Intel Massachusetts, Inc.
Benefactor - $2500 - $4999
Digital Federal Credit Union
Guardian - $1000 - $2499
Middlesex Bank
Tom's of Maine
Supporter - $500 - $999
Friend - $250 - $499
Thoreau Club Camp and Outdoor Center
Epsilon Associates, Inc
Nashoba Brook Bakery
Doran Funeral Homes
Hudson Savings Bank
Southborough Ventures, Inc.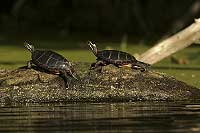 Contributor - $100 - $249
Adcole Corporation
Larkin Lumber Company
R. S. Lamson & Sons
Women's Parish Association
Educational Solutions
Eckel and Morgan, Attorneys at Law
Carrig Kitchens
Concord Acton Industrial Park
Stratus Technologies
M. Valentina Pasquantonio, D.D.S.
Robinsons Ace Hardware
Concord Oil Company
Millwright Corporation
Hudson Lock, Inc
Community National Bank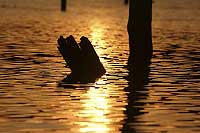 Matching gifts
Gifts in-kind
Carlisle & Company, Inc.

Millwright Corporation

U. S. Environmental Rental

Patagonia

Thorstensen Laboratories, Inc.
Cleanup day gifts in-kind
What other web sites should I check out?
Glad you asked. Here's a few. Please e-mail OAR if you know of a site that should be added to this list.
The Sudbury Valley Trustees is a land trust dedicated to preserving land in the Sudbury, Assabet and Concord watershed.
The Westborough Community Land Trust safeguards land to meet the environmental, recreational, agricultural, and scenic needs of the Town of Westborough.
The Charles River Watershed Association is a nearby ally in the river saving business.
American Rivers is a Washington D.C.-based river advocacy group focused on rivers and environmental issues all over the country.
The Friends of the Assabet River National Wildlife Refuge are helping the U.S. Fish and Wildlife Service open up the refuge which borders the Assabet River in Stow, Maynard, and Hudson.
The Assabet River Rail Trail is working to bring alternative transportation in the Assabet River corridor.
Concord Magazine features the Assabet River occasionally.
The Acton Stream Team is helping improve conditions on two of the Assabet's tributaries, Nashoba and Fort Pond Brooks.
The Massachusetts Watershed Coalition works to "build a network of watershed partners" in the Bay State.
Massachusetts Riverways Program. Massachusetts Department of Fisheries, Wildlife and Environmental Law Enforcement
US Geological Survey Massachusetts stream flows
American Rivers Summer 2000 Road Trip visit to the Assabet and OAR
Nature Guides
Bliss Publishing - Publishers of area river guides.
Wildlife Trails Education Project (Many photos from the Assabet River National Wildlife Refuge and the Assabet watershed)
Biochemical oxygen demand
Environmental League of Massachusetts