How the Index is Calculated

[Water Quality and Quantity Monitoring | Physical Habitat Assessment |
Minimum Flow Requirements | How the Indices are Calculated]
Welcome to the Secret Life of the Stream Health Index!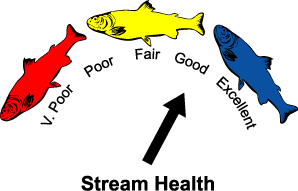 This simple Stream Health Index graphic belies the complexity of the information that goes into it. An index brings information from multiple sources together into a single number, like a grade, that can be understood at a glance.
The following pages walk through the process from data gathering to index calculations. You can click on "next" at the bottom of each page to go through all four sections.
Index paper: Right click to download a full description of the index: "Stream Health Index: an integrated streamflow and water quality index for small streams of the Assabet River watershed, Eastern Massachusetts" (1MB pdf file)
next>